I had my first garage sale-ing experience this past Saturday. I can't count how many I ended up going to. I made quite a few note cards with addresses and mini-maps with the times each garage sale was open and whether it was a multi-family or not. I didn't even get to all the ones I put on note cards though, because I found so many others along the way that hadn't been listed on
garage sale tracker
or
craig's list
. That's ok - I did have an enjoyable morning (even if my body wasn't ready to be up that early).
So... here is what I found: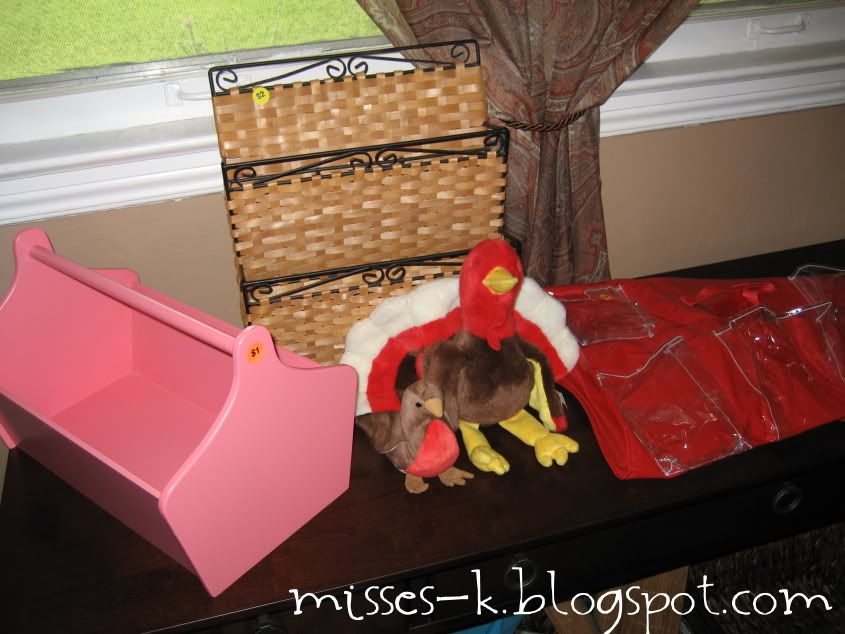 pink "toolbox"?: $1
mail sorter: $2
beanie babies: $0.25 (each)
red organizer: $0.50
total: $4
Best thing about all of this is that my hubby totally approves of my new hobby - and he's always weary of my spending habits. Fortunately he saw that I showed some restraint (I didn't fill the entire car with crap), and that I really enjoyed the hunt. So.... I'm convinced that not only is this worth my time, but it's fun too!
Edited to include:
I just linked up for the first time over at
Southern Hospitality
. Check out Rhoda's blog and see what others have found.